TRAVEL LIFT OFF - WE ARE OPEN FOR INTERNATIONAL VISITORS
Posted on Fri November 13, 2020.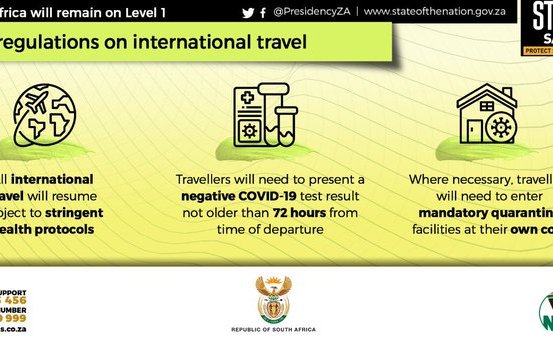 President Cyril Ramaphosa announced further easing of the current level 1 lockdown in a national address on Wednesday evening (11 November 2020).
South Africa's International borders are now open to all countries. The only requirement is a Covid-19 Negative certificate issued with 72 hours of travelling.
The president said that the country will reopen international travel to all countries subject to health and safety regulations and a clearance certificate. As restrictions on international travel are lifted, it is more important than ever for travellers to follow all safety protocols to protect their health and minimise the risk of acquiring COVID-19.
With this in mind at Needles we adhere to the moat stringent Covid-19 Protocols including:
The services and facilities offered by the lodge remain exactly as previously with the exception of the following:
Breakfast is no longer in the form of a buffet. Orders will be taken at the tables. You will be offered a number of choices of cooked breakfast. In addition, fruit, cereal, juice, coffee and tea are available.
A light A' la carte lunch menu is on offer. Menus are available in a digital format. 
Dinner is a three-course set menu and is served at 19h00 in winter months and 19h30 in summer months.
Guests will be allocated their tables prior to sitting down for dinner service.
All books in Public areas are there for you to read. Books are cleaned and sanitized daily and please sanitize your hands before selecting and once returning the book/s.
Additional health and safety steps are being undertaken, as follows:
o   A full Health and Safety Audit has been carried out to identify risk areas
o   A full staff education programme has been undertaken
o   Precautions are being taken to safeguard staff health and to boost immune systems
o   There is no hand-shaking or physical contact at any time
o   Social distancing is observed by staff at all times of two metres
o   Additional advisory signage is posted throughout all public areas and rooms
o   Rooms are deep-cleaned between guests. Check-out time will now be 10am to allow for this. Check-in time will now be from 3pm. We shall try to accommodate late check-outs and earlier arrivals according to room availability. When possible, rooms will be left unoccupied on rotation for 24 hours between guests
o   The check-in and check-out process is streamlined to reduce physical contact. Guests will be required to provide previous destinations on check-in as well as contact details.
o   Sanitization of luggage is carried out when bags are carried by staff
o   Sanitisers are available throughout the lodge
o   Only disposable paper hand-towels and napkins will be used in public restroom and dining room
o   Staff hours and leave are adjusted to allow for two separate teams to operate and self-isolate as required.
o   Precautionary temperature testing of staff is undertaken every day and staff health fully monitored
o   Guests arriving will be asked to undergo unobtrusive temperature testing
o   Guests will be screened on a daily basis
o   A comfortable and well-appointed isolation room is made available to anyone showing signs of ill-health
o   All management staff are fully briefed on appropriate sensitive handling of cases of suspected infection and on the applicable actions for contacting nearby medical facilities
o   A logbook is maintained with any concerns and suggestions in relation to any health and safety issues.