THE " I DON'T KNOW" ANTELOPE!
Posted on Mon November 22, 2021.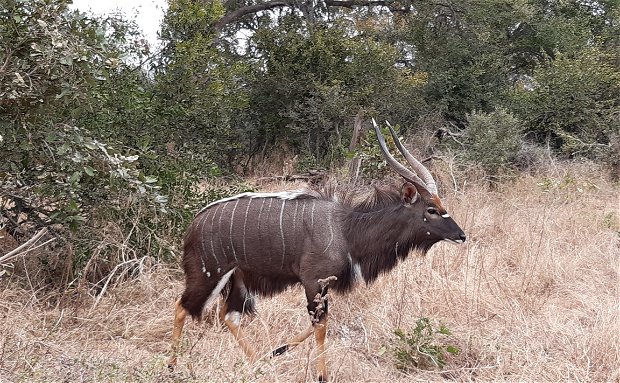 Another short and amusing article from our resident author Alan Holmes. This one has some interesting facts on the Nyala, one of our most beautiful antelope.
A rare Marloth Park resident but certainly one of it's most beautiful, is the Nyala. It's scientific name is Tragelaphus angasii. This lovely animal, in size between it's family members, the Bushbuck and the Kudu, has a dark, shaggy coat and thin yellow legs that look for all the world like the lederhosen worn in Munich during Oktoberfest!
Its a well-known fact that the Nyala got it's scientific name because it was first recorded in 1849 by George French Angas, a colonial naturalist wandering around Africa not long after the Great Trek.
Or was it?
There is another story about how the Nyala got it's name:
The Sabie Nature Reserve was established in 1902 and James Stevenson-Hamilton was appointed as its first warden. Under his watch, this reserve was expanded to eventually become the world-renowned Kruger National Park. The local Tsonga people called him Skukuza which means "turned everything upside down" because of his boundless energy and Scottish work ethic.
The story goes that one day he was walking through the bush with his Zulu tracker when they came across the first Nyala that Stevenson-Hamilton had ever seen.
"What animal is that?" whispered Stevenson-Hamilton so that he didn't spook the beautiful animal.
"Angazi" whispered the tracker in isiZulu, meaning "I don't know".
And so, the Nyala got it's scientific name! or did it?
This interesting story was told to this writer personally by the Ranger-in-charge at Charter's Creek Camp in the iSimangaliso Wetland Park about 20 years ago with a perfectly straight face. He was very convincing and I believed his story of how the Nyala got it's name for years, until I found out about George French Angas!
Whichever story you believe about how the Nyala came to be recorded as Tragelaphus Angasii, the "I don't know" antelope is a handsome creature, indeed!
Want to see the Nyala and admire Africa's wildlife? Then you must travel to your Safari Accommodation in Marloth Park and stay at the four-star Needles Lodge, bordering Kruger National Park.