A Guide for Solo Female Travelers to Explore South Africa's Natural Wonders
Posted by Denis on Thu October 19, 2023.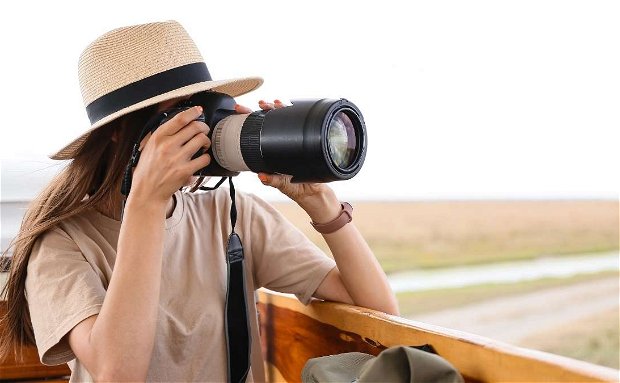 For solo female travelers passionate about adventure, wildlife photography, and diverse cultures, South Africa is the ultimate dream destination. Explore breathtaking landscapes, abundant wildlife, and warm hospitality in this captivating country. Discover what makes South Africa a must-visit for intrepid women like you. Dive into wildlife encounters, cultural immersions, and unforgettable experiences.
For solo female travellers who are passionate about adventure, wildlife photography, and immersing themselves in diverse cultures, South Africa is a dream destination waiting to be explored. This captivating country, known for its breathtaking landscapes, abundant wildlife, and warm hospitality, offers a once-in-a-lifetime experience for intrepid women like you.
Discovering South Africa - A Solo Female Traveler's Dream
South Africa, often referred to as the "Rainbow Nation," is a land of contrasts and captivating beauty, making it a dream destination for solo female travelers like yourself. Here's what makes South Africa a must-visit:
South Africa is a land of superlatives. It's home to Kruger National Park, one of the largest game reserves globally, where the Big Five roam freely. Solo travellers can embark on game drives guided by experts, offering intimate encounters with these majestic creatures. But the wildlife experiences don't end there. South Africa boasts over 500 bird species, making it a haven for birdwatchers.
Beyond the wildlife, South Africa offers a rich tapestry of cultures waiting to be explored. For solo travelers like yourself, immersing in local traditions and savoring authentic cuisine is part of the adventure. From vibrant townships to cosmopolitan cities, South Africa's cultural diversity is a source of endless fascination.
Needles Lodge - Your Gateway to South Africa's Heart
As your journey unfolds, you'll find your way to Needles Lodge, a sanctuary nestled in the African bushveld. More than just accommodation, Needles Lodge offers an immersive experience that allows travelers to become part of the African wilderness.
Needles Lodge boasts eight beautifully appointed suites, each exuding its unique character and ambiance. These suites provide a cozy retreat after a day of adventure. As you make the African bush your home, you can wake up to the sight of animals like giraffes, zebras, warthogs, kudus, wildebeests, and impalas wandering past your suite - a wildlife enthusiast's dream come true.
At Needles Lodge, you're not just a guest; you're a part of nature. Each suite has a private deck, seamlessly integrating with the central deck through sliding doorways. Here, you can soak in the sights and sounds of the bushveld, share stories under the stars, and connect with fellow adventurers.
Adventure Beckons
Needles Lodge isn't just a place to rest; it's a springboard for adventure. Solo travelers like yourself can choose from a range of activities designed to deepen your connection with nature. Thrilling game drives guided by knowledgeable experts reveal the wonders of the African bush at sunrise and sunset. Guided bush walks offer an up-close exploration of the bush's smaller wonders, from intricate insect life to diverse flora. And tours along the Panorama Route unveil the scenic marvels of Blyde River Canyon and other breathtaking landscapes.
Exploring the Wonders of Kruger National Park and Blyde River Canyon
As your adventure continues, set your sights on the wonders of Kruger National Park and the majestic Blyde River Canyon, both easily accessible from Needles Lodge.
Kruger National Park - A Wildlife Wonderland
Kruger National Park epitomizes the African safari experience. Embark on game drives guided by experts, where you could encounter the Big Five – lions, leopards, elephants, buffalos, and rhinos. With over 500 bird species, including vibrant plumage and rare sightings, Kruger is a birdwatcher's haven. For those seeking a more intimate connection with nature, guided bush walks reveal the bush's smaller wonders and diverse flora.
Blyde River Canyon - Nature's Masterpiece
A short drive from Kruger National Park, Blyde River Canyon offers awe-inspiring natural beauty. Explore iconic sites like the Three Rondavels, sculpted by centuries of erosion, and Bourke's Luck Potholes, intricate rock formations shaped by the confluence of the Blyde and Treur Rivers. It's a geological marvel waiting to be discovered on a Blyde Canyon Boat Trip.
Activities at Needles Lodge - Crafting Your Perfect Stay
Your journey isn't limited to the wild wonders of Kruger National Park and Blyde River Canyon. Needles Lodge offers a wide range of activities designed to enhance your connection with nature and create unforgettable memories.
Game Drives: Join experienced guides for thrilling game drives, where the African bush comes to life at sunrise and sunset. Encounter a diverse array of wildlife in their natural habitat, from graceful antelopes to majestic predators.
Bush Walks: Explore the wilderness on foot with guided bush walks. Led by knowledgeable guides, you'll gain a deeper appreciation for the bush's delicate balance and discover its smaller inhabitants, from colorful insects to the intricacies of indigenous flora.
Day Trips to Mozambique and Swaziland: Expand Your Horizons
Needles Lodge serves as the perfect base for day trips to neighboring Mozambique and Swaziland, adding a unique dimension to your South African adventure.
Mozambique (Maputo Capital City) Day Tour
Start your day with a visit to a local coffee shop.
Explore Maputo's rich history by visiting the Samora Machel statue and Catholic Cathedral.
Discover the city's unique architecture, including the Steel House and Botanical Garden.
Immerse yourself in the local culture at the Maputo Craft Market, featuring woodcraft and batik vendors.
Savor a delightful lunch at the Fish Market, indulging in prawns and local beer.
Take a scenic Ocean Drive along the picturesque coast.
Eswatini (Previously Swaziland) Full Day Tour
Begin your day with a visit to a Swati Cultural Village, where you'll enjoy breakfast, a tour, and a captivating performance.
Explore the artistry of handmade glass at the Ngwenya Glass Factory.
Browse the craft market for an array of crafts and curios.
Experience the art of handcraft and weaving at Gone Rural.
Discover exquisite mohair products at Rosecraft.
Satisfy your taste buds with lunch at a local restaurant.
Witness the creation process and meet skilled artisans at Swazi Candles.
Conclude your day with a visit to the stunning Maguga Dam.
These day trips allow you to delve into the vibrant cultures and landscapes of neighboring countries, all with the assurance of safe and guided travel. If you prefer escorted tours to both Maputo and Swaziland, these can be easily arranged.
Safety and Well-being - Our Top Priorities
Your safety and well-being are our utmost priorities. Our experienced guides and dedicated staff are committed to ensuring that every moment of your journey is enriching and secure. You can rest assured that you're in the care of professionals who are passionate about both conservation and hospitality.
At Needles Lodge, we're more than just your hosts; we're here to assist you in crafting your unforgettable story. So, are you ready to embark on a journey that will leave you spellbound? Are you ready to explore the wild wonders of Kruger, savor the tranquility of Needles Lodge, and stand in awe of the grandeur of Blyde River Canyon?
Your safari begins here. Let's make it unforgettable, safe, and truly extraordinary.